Valentine's Day Jewellery – ideas to buy gifts for her
Posted by Livia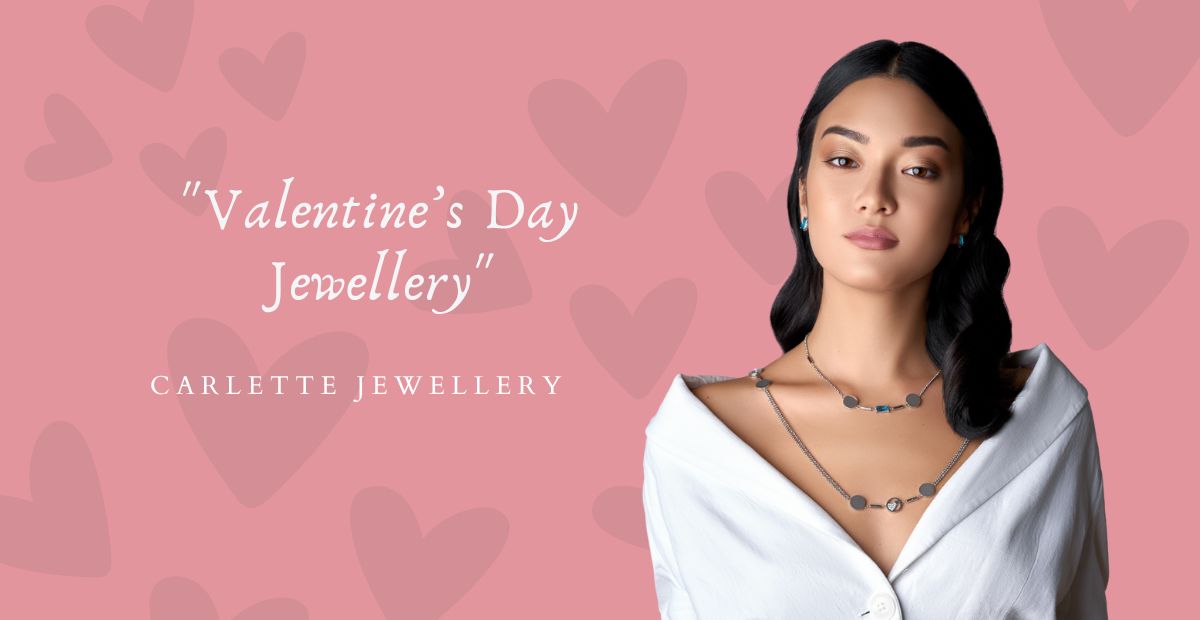 Valentine's Day is a special time to show your loved one just how much they mean to you. A meaningful gift can make all the difference, and what could be more meaningful than a piece of jewellery? Jewellery is a timeless and cherished gift that symbolizes love and commitment. From this perspective, Valentine's Day could be an opportunity for you but also quite a challenge, especially if you don't know her tastes in jewellery or if there are too many options out there (and they are, don't they?).

When it comes to buying jewellery as a Valentine's Day gift, there are (way) too many options available. But looking for the jewellery with heart or symbol shapes can be an excellent choice for those who want to go the extra mile and declare their love. These shapes represent the love and affection between couples and add a touch of romance and sentimentality to the gift.
The jewellery you choose doesn't have to be the most expensive on the market, but it must be beautifully crafted to impress her. And here, Carlette Jewellery could be the brand you were looking for.
Indeed, by their shape and innovative mechanism, Carlette Jewellery is an excellent choice for Valentine's. Here are a few suggestions from the website that will make your loved one feel truly special on this special day:
Heart-shaped or heart-symbol jewellery for Valentine's Day
Imagine your loved one's face when they open the gift and see the shape of the jewellery you offered. Only One rose-gold carlette is a good choice here, and she will surely be impressed!
This Carlettte feature delicate heart shapes that dangle from gold or silver hooks. It is perfect for a casual or dressy look and can be worn every day, reminding your loved one of your love and affection. Imagine her wearing this carlette on a special date and feeling special and loved.
Designed for all women worldwide, Only One Carlette radiates female sensitiveness. She is confident, in love and beauty. Wear this piece, go and be who you want to be and achieve your dreams. The heart stamped on this piece stands for your state of mind. You are where you are meant to be.
The heart is embedded in a stainless steel, rhodium-plated piece, representing reliable materials and Swiss quality. The Carlette mechanism was designed with the spirit of Swiss innovation. Design your jewellery by adding this piece to our necklaces and bracelets. Combine with other Carlettes to make your jewellery more unique.
The heart-shaped rose gold earrings from the same Only One collection are also a perfect choice and will certainly match the heart-shaped carlette.
Or, you might want to go for the Symbiose collection – here, you can also find heart-shaped or heart-symbol jewellery. The Symbiose carlette has cubic zirconia stones embedded in stainless steel and rose-golden plated pieces, all representing reliable materials and Swiss quality. These features also define the Symbiose heart-shaped earrings that complete the Symbiose collection.
Unique necklace for Valentine's Day
You can't fail when buying her a unique Carlette necklace. Whether you go for Le Collier or Le Magnifique, both will impress her and convey your feelings for her.
Le Collier rose-gold necklace has a natural mother pearl embedded in stainless steel. This rose-gold plated jewellery represents reliable materials and Swiss quality. The Carlette mechanism was designed with Swiss innovation, allowing you to replace the centrepiece or add to it with further Carlettes. Make it yours with your design by adding more carlettes to this exceptional jewellery.
At the same time, when your loved one wears Le Magnifique silver-coloured necklace she is strong and beautiful, following her wildest dreams. When we feel good about ourselves and how we look, the path to a glorious future will be much more fun.
These are just a few examples of the many options available on carlettejewellery.com. Whether you're looking for a necklace, ring, earrings, bracelet or locket, our collections have a wide variety of jewellery with heart and symbol shapes that are perfect for Valentine's Day. With a large selection of styles, materials, and prices, you're sure to find the perfect gift for your loved one. Remember, it's not just about the gift, it's about the feelings and emotions that come with it, and these jewellery pieces will make your loved one feel cherished, loved, and appreciated.