Colour of the year 2023 – What kind of jewellery it fits?
Posted by Livia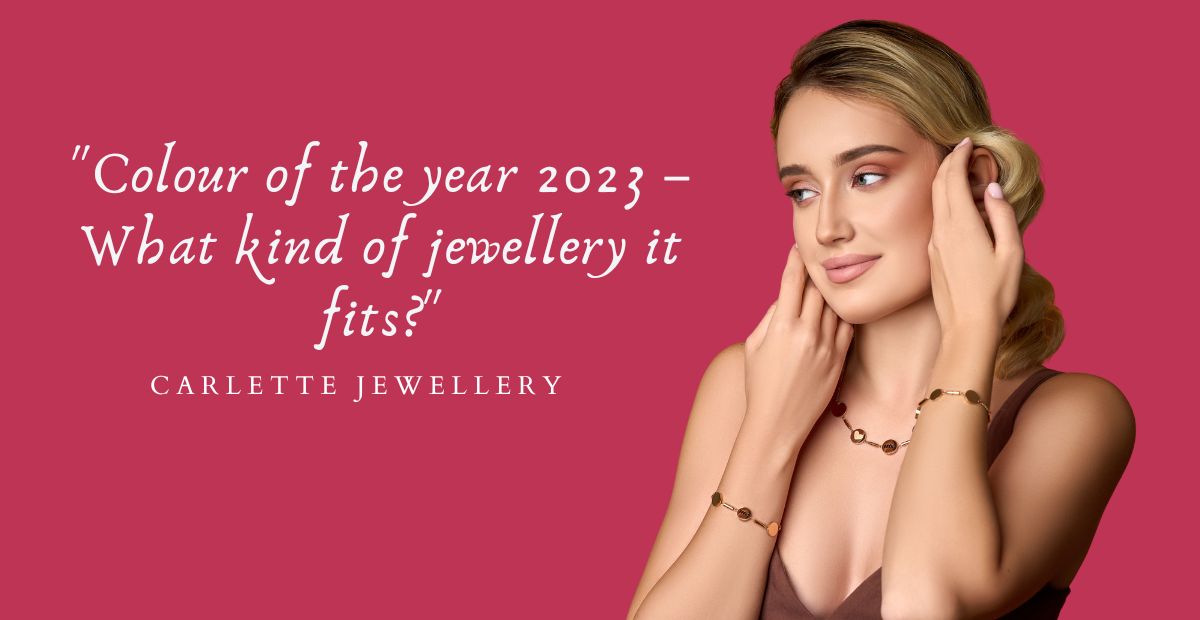 Carlette Jewellery is all about elegance, personality, fashion and showing your best look regardless of the passing trends. Regarding the colour of the year trend, it doesn't apply to everyone, but for those curious about how to combine it perfectly with a set of jewellery, here is a piece of advice for 2023.
What is Colour of the Year?
Every year, a new colour is introduced by the Pantone Color Institute. They select the colours by examining current events and how people respond to them.
Just before Christmas in December, the Pantone Color Institute announces its colour of the year. The Institute recently announced the colour of 2023, and we couldn't be more excited because the colour matches our aesthetic.
The exact name of the colour is Pantone 18-1750 Viva Magenta. It is a vibrant, tinged shade of crimson red and an example of balance. It is based on warm and cool tones, and the origins of the colour are anchored in nature.
In general, the colour Viva Magenta is often associated with energy, creativity, and playfulness and is often used to convey a sense of fun and excitement.
However, the meaning of the colour Viva Magenta may also vary depending on cultural and personal associations. For example, in some cultures, this colour is associated with femininity and delicacy, while in others, it may be associated with love and romance.
What jewellery should you wear with Viva Magenta?
Being a combination of warm and cool tones, Viva Magenta is a colour that can suit anyone with the right accessories. However, the colour is profound, not as soft as many would wear. Our recommendation for Viva Magenta would be gold accessories; we have a gold selection that will enhance everyone's features while wearing a magenta outfit.
Heavenly Earrings are the perfect touch of elegance on every occasion.
Whether for New Year's Eve party or spending the first day in 2023 with your family and friends, this pair of earrings is your must-have in your collection.
Le Magnifique necklace is another statement piece for an unforgettable look in 2023 that enhances the Magenta colour. Its brilliance will offer luminosity to your outfit and maximize the beauty of the colour.
Wearing this necklace is not a subtle piece of jewellery, and for those looking for a more minimalist look, the Le Collier necklace is our best alternative. However, whatever you choose in this case, depending on everyone's taste, our gold Carlette Jewellery is the perfect asset for the 2023 colour Viva Magenta.