How to Match Jewelry with Your Outfit
Posted by Livia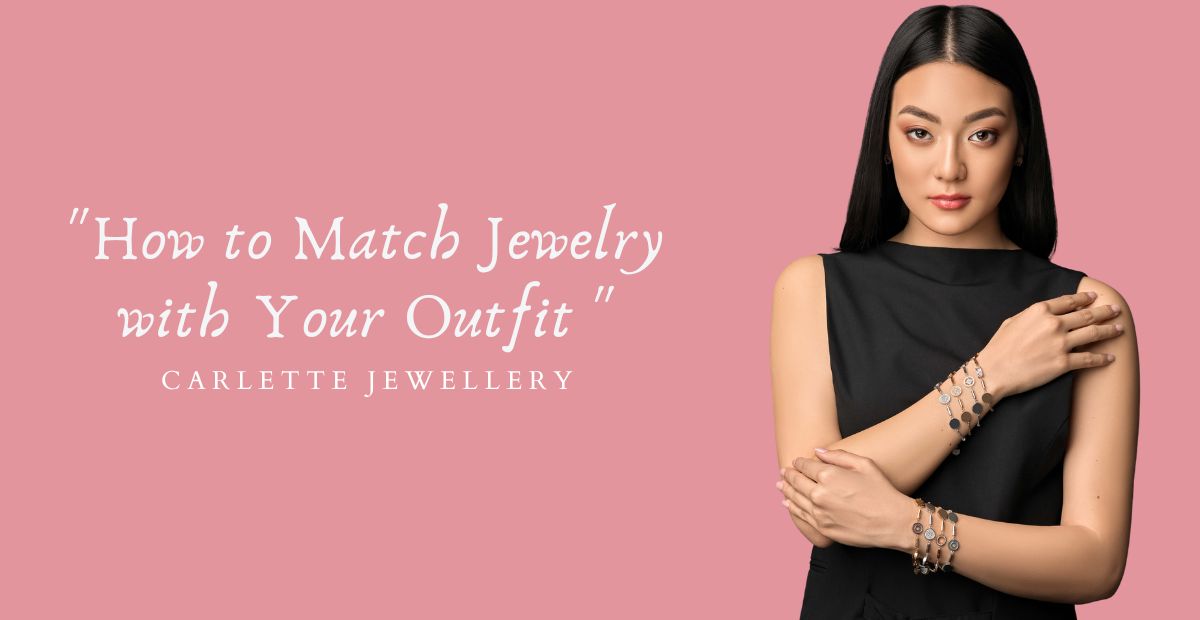 A simple and common outfit can be easily transformed into a sophisticated one with the help of some statement jewelry pieces.
Of course, there are no strict rules regarding jewelry and outfits, but in this blog post you can learn how to match jewelry with your outfit in order to make it stand out!
What to choose when you're searching how to match jewelry with your outfit 
How to match jewelry with a casual outfit
For a casual outfit such as jeans and a simple T-shirt, you don't have to worry too much about the type of jewelry you're wearing. In this case, the most accessible option is to choose a rather simple design. You can opt for a pair of simple yet sophisticated stud earrings, or a simple necklace without pendants.
If you are wearing heavier makeup such as eyeliner, a bold lipstick, intense eyeshadow, or a more colorful blush, then choosing jewelry with neutral colors can be the best option. 
If stud earrings are too subtle for your taste and you wish to draw more attention to your outfit, then you can opt for chandelier earrings to make your clothes stand out even more. 
Another option for simple and casual outfits is to choose custom jewelry. Carlette Jewellery has created the concept of customizing your own jewelry so that it can match your style and preference. This way, you can make a selection of pieces that you enjoy and you can wear them with any outfit, including the ones that are casual and simple.
How to match jewelry with a formal outfit
When it comes to formal outfits, choosing the right jewelry can be a little more challenging, and that is because formal outfits are in general more pretentious and have a lot more details than the casual ones. In this case, the emphasis is more on the necklace rather than the earrings, bracelets or rings, as a heavy and full of sparkle necklace can overpower your dress. Knowing this, a simple yet eye-catching necklace, like Le Magnifique necklace can be the perfect piece of jewelry for making your formal outfit stand out.
How to match jewelry with an office outfit
When matching your jewelry with an office outfit, you have to take into consideration the type of profession that you have. If you happen to be an artist and you're working in a creative studio, then you can enjoy wearing more colorful pieces in gold or rose gold tones. Our Irresistible earrings are an example of what you can wear if you're working in a creative environment.
On the other hand, if you have a more conservative profession and you're working in an accounting office or a law firm, then you might want to opt for simpler designs and a silver finish rather than gold hues. A discreet silver-toned bracelet like the La Belle bracelet or the delicate silver Reflections earrings can be the perfect option for a professional and classic office outfit.
You can even choose matching jewelry pieces to make your office outfit stand out even more and make the whole look more unitary.
How to match jewelry with a party outfit
If you're getting ready for a certain party, you might be wondering if there are any rules regarding jewelry in particular. There isn't really a perfect outfit to wear to parties because your makeup and hairstyle are just as important as the dress you're wearing! Making sure that your striking accessories match the rest of your ensemble, though, can be helpful. 
If your dress or top has a lot of color, then opting for simpler jewelry is best, because balance is very important when it comes to any outfit. On the other hand, if you happen to wear a monochrome dress, then choosing a statement piece of jewelry is an excellent choice. Also, crystals add a dash of sparkle and shine which can completely transform a monochrome outfit. An example of colorful yet elegant option for a simple party dress are the Stunning Blue earrings.
Jewelry is a wonderful way to express your personality and style, and learning a few tips and tricks on how to match it with your outfits can be a great way to experiment more and be creative when it comes to styling your clothes. Our motto is Be Sensual. Be Unforgiven. Be You. and this reflects in the way you wear your jewelry and choose to mix it with your clothes, so don't be afraid to add your personal touch whenever you can!