Beach Jewelry Essentials: How to Choose the Perfect Pieces for Your Coastal Getaway
Posted by Livia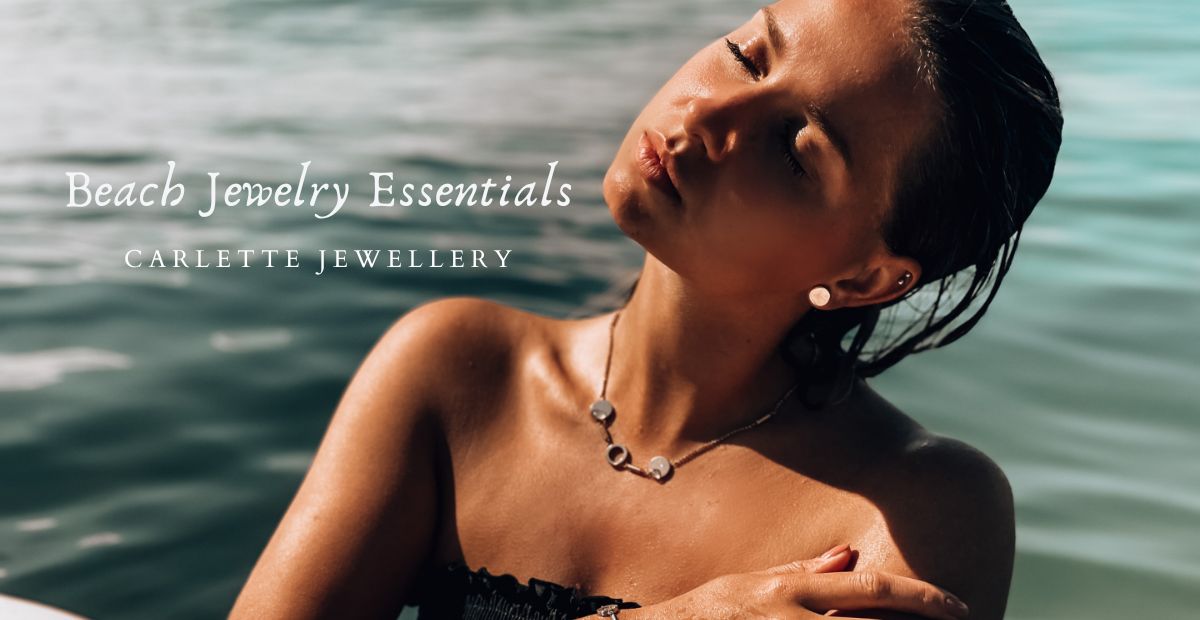 If you're anything like us, you know that no beach getaway is complete without the perfect accessories to complement your seaside ensemble. When choosing jewelry for the beach, it's essential to find water and sand-resistant pieces, lightweight and in tune with the coastal vibes. In this article, we'll guide you through selecting the best beach jewelry that will elevate your beach look and withstand the elements.
Waterproof Materials for Beach Jewelry
One of the most critical factors when selecting beach jewelry is choosing pieces made from water and sand-resistant materials. Here are some excellent options:
Stainless steel: This durable material is perfect for the beach as it's resistant to rust and corrosion caused by saltwater. Our jewelry is made of stainless steel, perfect for a summer day at the beach or elsewhere in nature or the city.
Waterproof-coated metals: Some metals, like brass or aluminum, can be coated with a waterproof finish to protect them from the elements.
Durable plastics: Acrylic or resin jewelry is stylish and highly resistant to water and sand.
Silicone: Flexible and waterproof, silicone jewelry is comfortable to wear and easy to clean after a day at the beach.
Minimalist Designs for Effortless Beach Style
When it comes to beach jewelry, less is more. Minimalist designs look chic and are less likely to become tangled or weighed down by sand and water. Consider the following styles:
Thin chains: A delicate chain necklace or bracelet adds a touch of elegance without overwhelming your beach look.
Dainty pendants: Like a starfish or wave design, a small pendant is a perfect way to embrace the beach theme subtly.
Anklets: An understated anklet can highlight your sun-kissed legs and draw attention to your stylish sandals.
Beachy Vibes: Seashell-Inspired and Oceanic Charms. When going to the beach or a lake, we recommend Stunning Blue earrings. Not only are they perfect as water and sand-resistant jewelry, but they also match the environment and make your eyes more attractive, especially if you match this jewelry with your eye color.
Also, don't forget to embrace the coastal atmosphere by incorporating seashell-inspired pieces or oceanic charms into your beach jewelry. Here are some ideas:
Seashell earrings: A pair of seashell or coral-inspired earrings can add a whimsical touch to your beach ensemble.
Oceanic charm bracelets: Choose a charm bracelet featuring marine life, like dolphins, turtles, or seahorses, to celebrate your love for the ocean.
Nautical-themed necklaces: Anchor or sailboat pendants are perfect for capturing the seaside spirit.
Avoiding Precious Metals and Gemstones
It's best to save your expensive pieces for other occasions, as sand and saltwater damage delicate materials. Instead, choose affordable and durable alternatives, such as Carlette Jewellery pieces.
A few suggestions for you while on the beach.

Cubic zirconia: This affordable gemstone resembles a diamond but is much more resistant to damage from sand and water. A piece of jewelry, such as our Irresistible Rosegold Carlette, crafted with radiates the female being. It is glamorous, modern and stylish. The cubic zirconia stones are embedded in the stainless steel, rose gold plated jewelry, representing reliable materials and Swiss jewelry quality. The Carlette mechanism was designed with the spirit of Swiss innovation.
Glass beads: Colorful glass beads can add a pop of color to your beach jewelry without the risk of damage associated with precious gemstones.
Layering Your Beach Jewelry
Layering jewelry is a popular trend that can also be applied to your beach look. To do so, keep these guidelines in mind:
Mix and match: Combine necklaces, bracelets, or anklets with varying lengths and styles to create a personalized and stylish look.
Keep it light: When layering beach jewelry, opt for lightweight pieces to prevent them from becoming too heavy or uncomfortable during your beach activities.
Stick to a theme: Maintain a cohesive look by sticking to a theme, such as ocean-inspired charms or seashell motifs.
Caring for Your Beach Jewelry
Proper care is crucial to keeping your beach jewelry looking its best. Here are some tips for maintaining your pieces:
Rinse after exposure: After a day at the beach, rinse your jewelry with fresh water to remove any salt, sand, or sunscreen residue.
Dry thoroughly: Before storing your beach jewelry, ensure it is completely dry to prevent any potential damage or tarnishing.
Store separately: Keep your beach jewelry in a separate compartment or pouch to avoid tangling or scratching with other accessories.
Regular cleaning: Clean your beach jewelry periodically using a soft cloth and gentle cleaning solution to keep it looking shiny and new.

By following these tips, you can curate a beach jewelry collection that is both stylish and functional. Whether you're lounging in the sand, taking a dip in the ocean, or enjoying a seaside sunset, the perfect beach accessories will make you look and feel fabulous all summer.