What to wear for Christmas? Carlette recommendation for holidays
Posted by Livia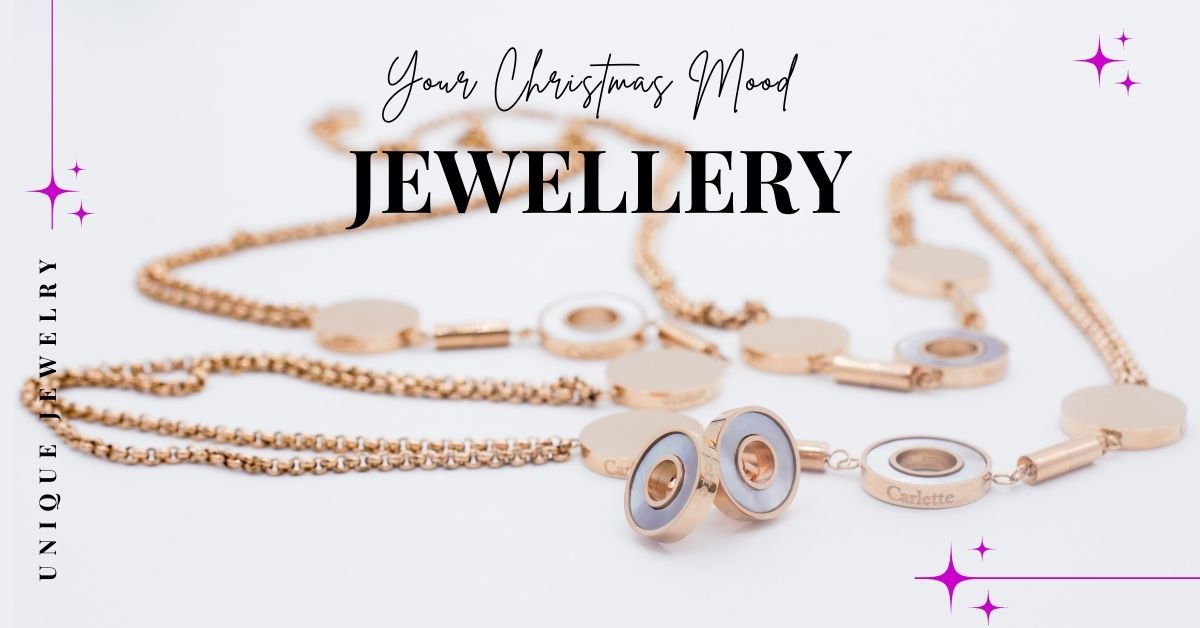 Don't know what to wear for Christmas? Carlette will make you feel unique and beautiful with our fantastic jewellery made for each girl. Every woman deserves the best, and we will make sure that this happens.

Christmas is the most wonderful time of the year, and we all want to feel special at Christmas dinner. You will impress your partner and your family wearing our Carlette jewellery.

But, what's the best part of wearing Carlette? You can create your design and be unique!

Create your own style with Carlette

You can create your style with Carlette jewellery and look sensational on Christmas. As they say, all women deserve to glow and shine bright like a diamond. In just three simple steps, you will stand out from the crowd:

1. Pick your base - Choose a Carlette bracelet or one of our short and long necklaces in silver or gold rose. It comes with the mother pearl Carlette when you order it.

2. Design your own jewellery - The jewellery we wear is the personal touch to our outfits. It's what makes us feel pretty and put together. Choose from our collection of Carlettes to design the jewellery that feels like you. Make it unique, just as special as you are!

3. Complete the look - Choose the Carlette earrings that match your other designed jewellery - don't be afraid to mix designs! Go for it and create your complete look with a necklace, bracelet, and earrings! If you like wearing more, stack them up!

Why wouldn't you be sensual and unforgiven at the same time?

On Christimas, wear Carlette!

By wearing Carlette on Christmas, you can be chic with zero effort. Don't worry that somebody else will have the same jewellery. With Carlette, every woman will be one-of-a-kind. Discover our Christmas Collection, and you will fall in love with them.

Add an assortment of jewellery appropriate for your Christmas outfit.

CHARMING Earrings – you will adore this jewellery made special to highlight the feminity, elegance, and style of a woman. The CHARMING Carlette is inspired by all girls worldwide who want to radiate. You will feel glamorous and confident, and everyone will remark you. The CHARMING Carlette emanates the female being and is inspired by all ladies worldwide. Captivate and charm others in your vicinity. Feel extravagant, charming, and assured. The cubic zirconium stone is stainless steel, a rhodium-plated component representing reliable materials and Swiss craftsmanship. Combine these sparkling earrings with a Carlette necklace or bracelet to create your unique outfit. The snowflake detail is reminiscent of Christmas time.

CHARMING Carlette – you can add this Carlette to your bracelet or necklace base. You can keep it simple or combine it with other charms. Be bold and stand out from the others. All women deserve to feel appreciated, and with Carlette, everyone will notice your glam and stylish outfit. Design your jewellery by adding this piece to our necklaces and bracelets. Combine with other Carlettes to make your jewellery more unique.

For centuries, women wore jewellery to complete their outfits, and the right accessories are what it's missing. Carlette brings out the feminity in women and helps them boost their confidence. The jewellery is a must-have for a modern-day woman for a special occasion. Christmas is the perfect time when you can flaunt your magical Carlette set. When the correct pieces are worn for the right occasion, jewellery has the capacity to showcase a woman's personality and bring out her best qualities.

What girl doesn't love jewellery? It is essential for every woman because it makes them feel unique, beautiful, stylish, and confident. When you enter a crowded room, all eyes will be on you for wearing the right jewellery. Remember that a Carlette is a perfect gift for your girlfriend, lover, or wife. Add some sparkles on Christmas wearing our Carlette Christmas Collection, and you will feel complete!