Long necklace – how to wear it
Posted by Livia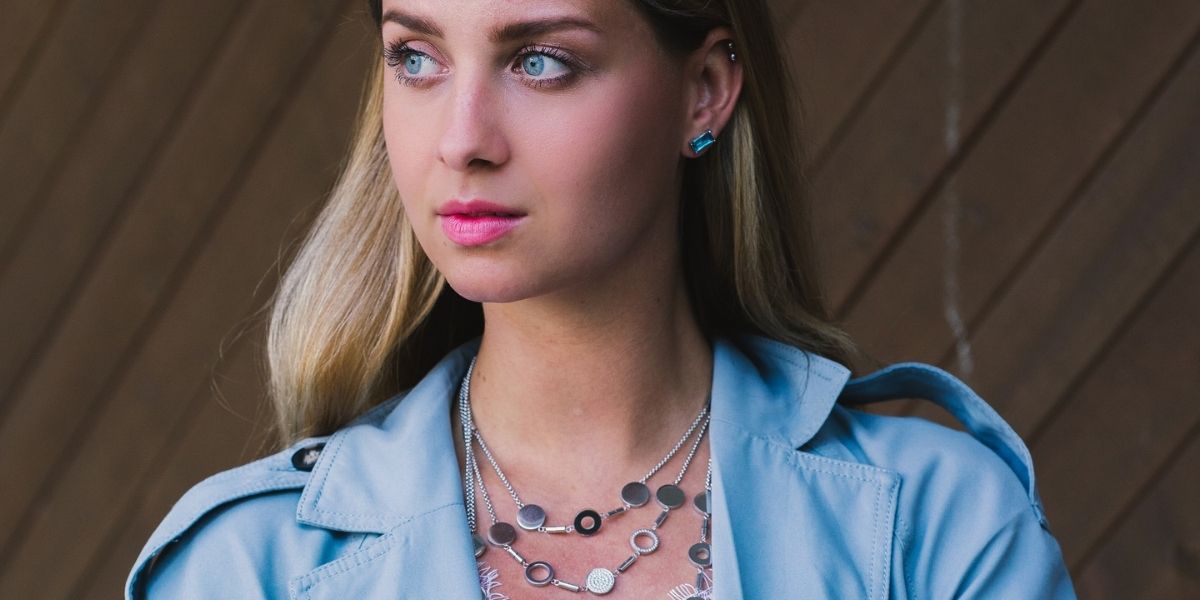 A long necklace is an excellent accessory to have in your closet. Jewellery makes everything look better, and if we know how to match the outfit with the accessories, we will look fabulous. But a long necklace doesn't go with everything. It would be best if you considered the length of the necklace, so it doesn't look ridiculous on you. In today's article, we will give you some advice on wearing a long necklace.

How to wear a long necklace to look amazing

First of all, a long necklace adds a flair and fluid movement to anybody. But if it is too long, you will look weird, and you definitely don't want this. Carlette Jewellery has the perfect long necklaces for you but let's see some tips for not to mess the outfit up.

Don't wear a long necklace with a crop top

A long necklace with a crop top? Not the best combination, to be honest. Wearing the long necklace with the crop top will make you seem funny because the crop top sits just above or at your belly button.

Turtleneck or high crew/sweater

A long necklace is a wise option for a turtleneck or high crew/sweater because it draws the attention down and gives the impression of elongation of the body. It will look amazing on you. The layering piece on a turtleneck sweater will create an incredible look. Just grab a long necklace, put on your turtleneck sweater, dress or top and be on your way!

Long necklace and overly long clothes? Think twice before taking this decision

While long necklaces may work well with some long dresses or oversized jumpers, long chains should be avoided while wearing big clothes. At worst, it may make you appear like you're drowning in your clothes, and at best, it simply makes you look weird. Long necklaces work well with numerous items like tank tops and jeans, shorter skirts (at the knee or above!), flowy tops, shirts, blouses, or the like because long lines contrast better with shorter pieces. If you wear a long dress, stick to short necklaces that come to rest below the clavicle or just above the chest for a stylish effect.

Wear the long necklace with basic clothes

When you choose to wear a blouse, vest-top, dress or tunic, add a long necklace to your outfit. In this way, you will draw attention to the necklace's design. A long chain is an excellent choice to create a relaxed, chic look. The best thing is that you can complete the style with a shirt or a sleek tank top teamed with pants or lovely shorts. A long necklace would look exceptionally layered over an open flannel over your adorable casual dress.

You can wear the long necklace at any time of the day

A long necklace is a perfect accessory for any time of the day. You can create a casual outfit or a super glam one. If you have a big event and want to look fabulous, you can opt for a strapless dress and add the long necklace, untied or flipped around towards the back. You can wear this necklace backwards with a low back dress for an even more sophisticated glam look. You want the tassels to be within the dress's open back. You've undoubtedly seen this look a few times on the red carpet.

Long necklace from Carlette Jewellery - LE MAGNIFIQUE Necklace

Carlette Jewellery is here for you and prepared something really unique for you: LE MAGNIFIQUE Necklace. This long necklace will look incredible on every woman. The natural mother pearl is embedded in the stainless steel, rose gold plated jewellery, representing reliable materials and Swiss quality. The Carlette mechanism was designed with the spirit of Swiss innovation, allowing you to replace the centrepieces or add them with further Carlettes. Make it yours with your design. Make sure you wear the right outfits to highlight the beauty of this necklace. You can follow the rules we've given you so you won't look unfashionable.